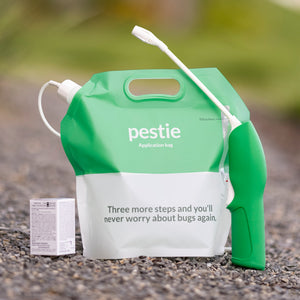 Customer Reviews
Write a Review
Ask a Question
25 Nov 2023
TERESITA D.

California
First time user
I finally had the chance to use my Pestie yesterday. It was a mess. The spray is spraying side ways instead of just from the tip. i want to spray my patio ceiling and did not work with sideways spray. I ended up wasting a lot of chemicals for nothing. I tried to adjust the spray tip but will not budge. Advice please. Thank you.
22 Nov 2023
Patrick C.

Florida
Satisfied
Easy to use and effective!
22 Nov 2023
David C.

Nebraska
1st use
due to weather wasn't able to use right away, was little late, but outside spray seemed to take care of bugs
21 Nov 2023
Richard P.

Missouri
Switch to Pestie and Save
I utilized a paid service provider, but unfortunately, they consistently raised their prices. I observed the technician spending approximately 15 to 20 minutes applying the treatment to my residence. Realizing that I could perform this task myself, I am appreciative of Pestie for providing me with an alternative option. The cost savings are truly substantial.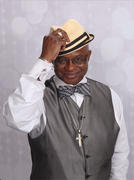 21 Nov 2023
Michelle M.

Washington
Easy to use & no more bugs!
I am so thankful for this quick and easy solution! Right after I spray i see bugs for a few days come out to die then no more bugs!
21 Nov 2023
Michelle M.

Washington
Easy to use and no bugs in my home
I am so thankful for this quick and easy solution! Right after I spray i see bugs for a few days come out to die then no more bugs!
20 Nov 2023
Hande J.

Texas
What a great find!
We've been using Pestie over two years now and we are very happy with the product and the customer service. It is effective, user friendly and good value! We have dogs and we feel safe using it around the yard. We have recommended it to several friends and family.
19 Nov 2023
Amy P.

Arkansas
Mixed opinion - beginner error?
The chemical was easy to apply but ran out before I could spray what was recommended. 1. Did not get to spot spray inside - ran out. Bugs seemed to have gotten pushed in - found them in various rooms up to 3 days after spraying outside. They were spiders so we released them back outside. 2. Directions say to spray a portion of the year around the perimeter of the house but ran out of solution. As I mentioned, this may have been 1st time user error and not getting the right feel of how much to spray and which spray setting to use so I may have over used around the permiter and the deck. I purchased the yearly subscription so should be getting another dose in around Jan. and I can make adustments when spraying, although I am tempted to buy a separate dose so I can spray the yard and spot spray the inside just to be sure. It would be nice if ordering would include an option to add an additional 1x dose, or half a dose, to allow the unprofessional applier to allow for proper coverage for a "just in case" - it would also allow for adjustments for those with larger homes. We live in the South and the bugs are horrible - again. The big problem right now is flea control out around the house so I think I will check to see about getting a 1x app and then make the adjustments for application on future applications.
18 Nov 2023
Sherri H.

Kentucky
I love the convenience of Pestie
We have lots of trees and so there are lots of spiders! I am not ok with that! Pestie has helped a lot! The ease of using it is amazing too! So I do thank you Pestie for doing the work! I guess we can't get rid of allllll the spiders! But there has been a true improvement!
18 Nov 2023
Kellie B.

Arizona
Worked Well
I am elderly and do this myself and it was super easy.
17 Nov 2023
Khristina K.

Arizona
Great Results
Easy to use and very effective!
17 Nov 2023
Rosa A.

Florida
Seems to work so far
It's only been about a month, and it seems to be working so far for the most part. I only used it outside. It was pretty easy to do and I love the sprayer. I did switch from a regular pest control company due to price, the only thing I wish Pestie had in addition to the spray is the gel they use in the cabinets. Other than that so far so good!
16 Nov 2023
Robin B.

Arizona
Darn little ants.
The system was very easy to use. I sprayed where I thought the ants were coming from, and all the door stoops. The reduction of ants has been significant, and I am very happy with it. I don't have fleas in my area, but I do have ants and little spiders. This has reduced them quite a bit.
16 Nov 2023
Joshua W.

Utah
Super easy
We just started using this product, so we'll see how well it works. But it was easy enough that I don't think we'll ever bother with professional pest control again.
15 Nov 2023
Amanda P.

Idaho
Works great!
Works great and is affordable. Loving it so far
14 Nov 2023
Lakenya B.

California
Ke
Love it it's the best
Thanks for your feedback, we're so glad to hear that you love our products. Hopefully, the 1 star is because we're #1.
13 Nov 2023
Debbie B.

Florida
Pestie to the rescue
This year was my worst year for bugs and I tried a couple different products that I bought from Lowes/Home Depot that just didn't seem to work so I decided to order Pestie. I really like the quarterly drop shipment and plan to purchase again; it was a much better value and took care of the problem when the other products didn't.
13 Nov 2023
Karen D.

Texas
Bang for Buck
We live out in the country and have a difficult time getting any regular pest control services to come out to our place. Sometimes they said we were outside their service area. Sometimes they would schedule an appointment and then never show up. Without regular visits it was hard to keep the farm and country bugs out of our home. Pestie has been great because we it comes to our door and we can take care of it ourselves.
13 Nov 2023
Guy B.

Arizona
Pestie is the Bestie
My overall experience was been phenomenal!! Pestie really came through for me!!!
13 Nov 2023
Kaylin K.

California
Bye bye buggies!
My experience was great. It is effective and easy to use. Much better than store bought versions.