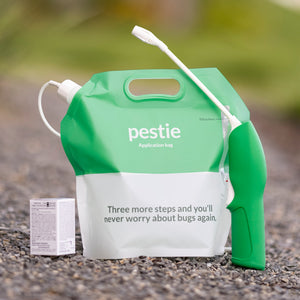 Customer Reviews
Write a Review
Ask a Question
02 Sep 2023
Kosetsu T.

California
Skeptical but ended up pleasantly surprised
I initially didn't have to high hopes for this but figured at the price point I wouldn't hurt to try once before subscribing. We have a lot of spiders and other insects all over. Surprisingly we found a lot of them dead within a couple of days and a month into it have seen a huge drop of insects throughout the house. We would definitely recommend to at least try once and after that I'm pretty sure you will subscribe, we are planning to do so.
01 Sep 2023
GEORGE S.

Indiana
Amazing Product!!
This product was so easy to use and i haven't seen any bugs since i sprayed! 100% recommended
01 Aug 2023
Heather F.

California
I ❤️ Pestie!!!
I ordered Pestie, not really expecting a lot because the bugs here are crazy! We've tried everything you can buy at the big box stores with the results lasting a couple weeks at most. We are 3 weeks since we sprayed and I've only seen a few bugs. I'm kicking myself for not signing up for an annual plan. I did a one-time purchase because I wasn't sure it was going to work. I've never been happier to be wrong
05 Jul 2023
Mark F.

Texas
Great product
Outstanding, very easy to use and saw results quickly
17 May 2023
Ashton A.

Tennessee
Now I'm a believer!
This product definitely surpassed my expectations. I got a one time application just to see if it would work. I have been battling fleas, sugar ants and carpenter bees since last year using a local traditional pest control company. I had to pay extra for flea treatment and then even more for carpenter bees. To top it all off, it didn't even work! While I know the sugar ants will always pop up randomly (I have toddlers who drop snacks in cracks that I've not even discovered) I'm not over ran with them. The fleas have diminished and the carpenter bees are here and there. I'm definitely not getting attacked by the bees every time I walk out my front door anymore. I HIGHLY recommend Pestie!
10 Nov 2022
Joyce M.

North Carolina
The real deal!
We were paying $90. every three months for pest control. It was like they were spraying water. It is embarrassing and unsanitary to have spiders, ants and cockroaches (the big ones) running around your home. So when I saw Pestie advertised I just figured we didn't have much to lose. It was easy. We mixed and sprayed the product as directed around the entire exterior of the house, the attic and around toilets. The results were immediate and we are bug free. I am a real person, I was not paid to test this product or to write this review. I'm just a very satisfied customer.